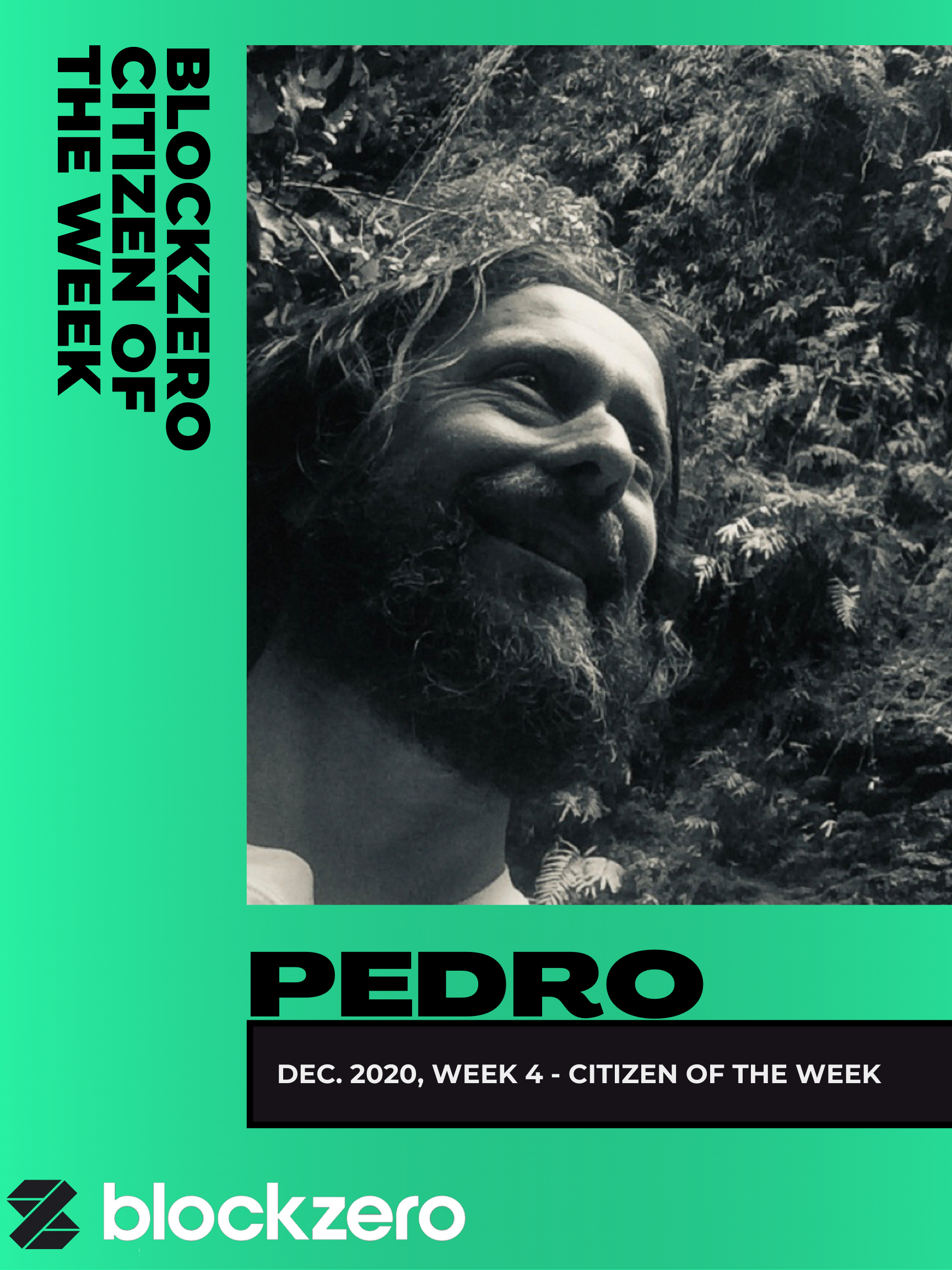 Announcing our third Blockzero Citizen of the Week, Pedro!
Each week, we're going to dedicate an interview-style blog by highlighting one of our standout Blockzero Citizens, giving you a moment in the spotlight. Who knows, there might even be other nifty rewards for winners down the line!
How to win? Just keep doing you. Share high-quality feedback, content, and keep going above and beyond in our dedicated XIO social media channels and forum. We'll notice you.
Our third Citizen of the Week is Pedro Ivo Bruder. You might recognize him as Pedrox.eth on Blockzero's Telegram, as he's been extremely helpful and active in there, as well as on our Slack channel! In our first ever community Token Idea Tournament contest, Pedro's Proof of Climate idea made the top two! Pedro has continually shown what our community is all about. In his message here, he boils it down pretty well:

"The most valuable asset on Blockzero is this powerful learning culture community. Let's keep curiosity and motivation, and we will change the world!!"
Without further ado, here's the interview:
Where are you from, and what do you do for a living? If you weren't doing ________, what would your dream job be?
I'm from Brazil and I'm an entrepreneur and a beginner agroforestry farmer.
What's your favorite food? Top 3 favorite albums of all time?
I love Burritos. The Rolling Stones | Out of Our Heads, Lenine | Olho de Peixe, The Herbaliser | Same as It Never Was.
What's one interesting fact about you that most people don't know?
I have been participating on an expedition at Grand Teton National Park. A 10 days self-sufficient expedition where our group was challenged with 120 cm of new snowfall, wet snow conditions and down to -18 C air temperatures.
What's your favorite place you've ever traveled to?

Cambará do Sul – RS – BRAZIL
Favorite quote of all time?
"May I live simply that others may simply live" –Gandhi
How did you first get into the crypto?
I bought BTC in 2013 after reading an article about the idea of a decentralised money.
What excites you most about the potential of the crypto/blockchain industry?

The empowerment of people.
How did you first hear about XIO/Blockzero?
From some guys at OPCT Telegram group when they chat about BOMB them I learned a bit, bought some BOMB and receive the XBOMB airdrop…
What is your favorite aspect of Blockzero?
The way Blockzero inspires the community to build this amazing learning culture!
What do you love most about the Blockzero community? Explain a bit more about your particular niche within the Blockzero community, and how you got started?
I believe the mindset of the Blockzero is the way to empower people to learn and launch their views/solutions to the world co-creating with the community. As an entrepreneur I see that as the spark needed to change the future.