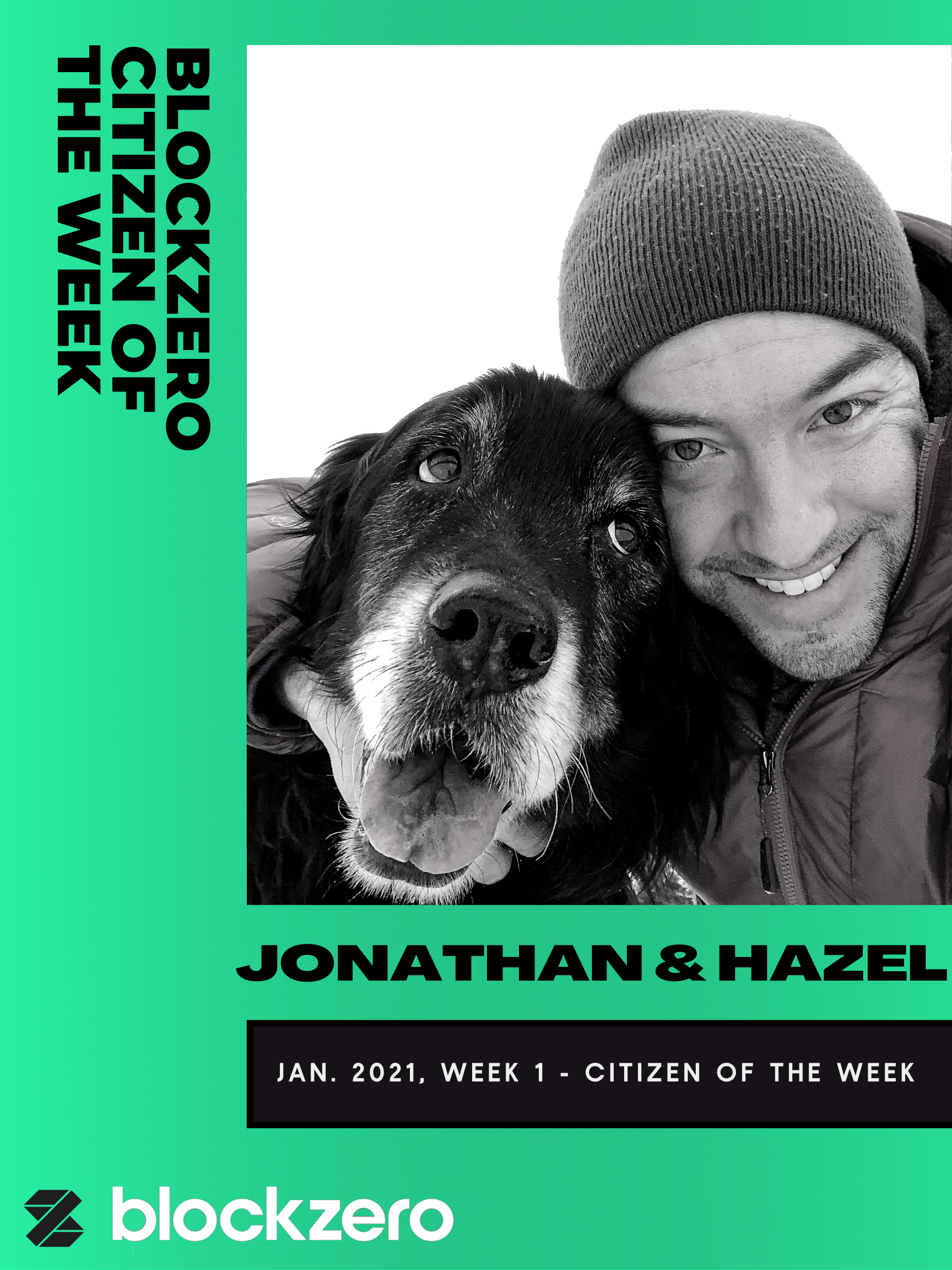 Announcing our fourth Blockzero Citizen of the Week, Jonathan (and his awesome doggo, Hazel)
Each week, we're going to dedicate an interview-style blog by highlighting one of our standout Blockzero Citizens, giving you a moment in the spotlight. Who knows, there might even be other nifty rewards for winners down the line!
How to win? Just keep doing you. Share high-quality feedback, content, and keep going above and beyond in our dedicated Blockzero social media channels and forum. We'll notice you!
Our fourth Citizen of the Week is Jonathan Burnham and his crypto savvy pup, Hazel. After the launch of the Flash dApp, we put out a call to our Citizens to make a creative video illustrating how to Flashstake and use the dapp. Jonathan quickly got to work, filming his dog Hazel, who just so happened to be among the first Flash dapp users. It became quite clear that Hazel's doggo crypto wisdom was on another level, so we had to show our love to Hazel and her human as the Citizen of the Week. If you haven't seen Hazel and Jonathan in action, check the video out below!
Without further ado, here's the interview:
Where are you from, and what do you do for a living? If you weren't doing ________, what would your dream job be?
I'm from Seattle and I run a video production company. If I wasn't video editing my dream job would be running an eco-lodge.

What's your favorite food? Top 3 favorite albums of all time?
PIZZA!!! Both Sides of the Brain, Shrines, and Give Up.

What's one interesting fact about you that most people don't know?
I can ride a unicycle and juggle, at the same time.
What's your favorite place you've ever traveled to?

Torres Del Paine, Patagonia, Chile
Favorite quote of all time?
"If the stars should appear but one night every thousand years how man would marvel and stare." –  Ralph Waldo Emerson

How did you first get into the crypto?
By learning how blockchain technology can improve so many industries.
What excites you most about the potential of the crypto/blockchain industry?

The possibility that we can create a financial system that is not only fair but works for everyone and not just the richest people.
How did you first hear about XIO/Blockzero?
It was most likely Ivan on Tech.
What is your favorite aspect of Blockzero?
I like the benefits of being an XIO holder and that we're the first to see new tokens.
What do you love most about the Blockzero community? Explain a bit more about your particular niche within the Blockzero community, and how you got started?
I'm new to the community but what I have been most impressed with so far is the engagement from the team and Zach. It is fantastic to see a company looking for community input and really taking direction from them. I'm not sure what my niche is yet but I hope I can create some beautiful content that inspires others to follow these cool projects. I got started in the community by making a video about how easy it is to Flashstake.