Announcing our fifth Blockzero Citizen of the Week, Mohammed
Each week, we're going to dedicate an interview-style blog by highlighting one of our standout Blockzero Citizens, giving you a moment in the spotlight. Who knows, there might even be other nifty rewards for winners down the line!
How to win? Just keep doing you. Share high-quality feedback, content, and keep going above and beyond in our dedicated Blockzero social media channels and forum. We'll notice you!
Our fifth Citizen of the Week is Mohammed, aka AllStuffCrypto on our social forum and Telegram.
Mohammed has gone above and beyond on our forum lately, as he's received the most likes over the past week (17), and he's actually been our most active forum user over the entire last month!
He's viewed over 120 topics, created 32 posts, and somehow managed to read a whopping 1.1k posts during that time span – I hereby declare that he is now a certified Blockzero Genius!
Thanks for all your support and dedication, and I think you are now worthy of changing your name to AllStuffBlockzero now 🙂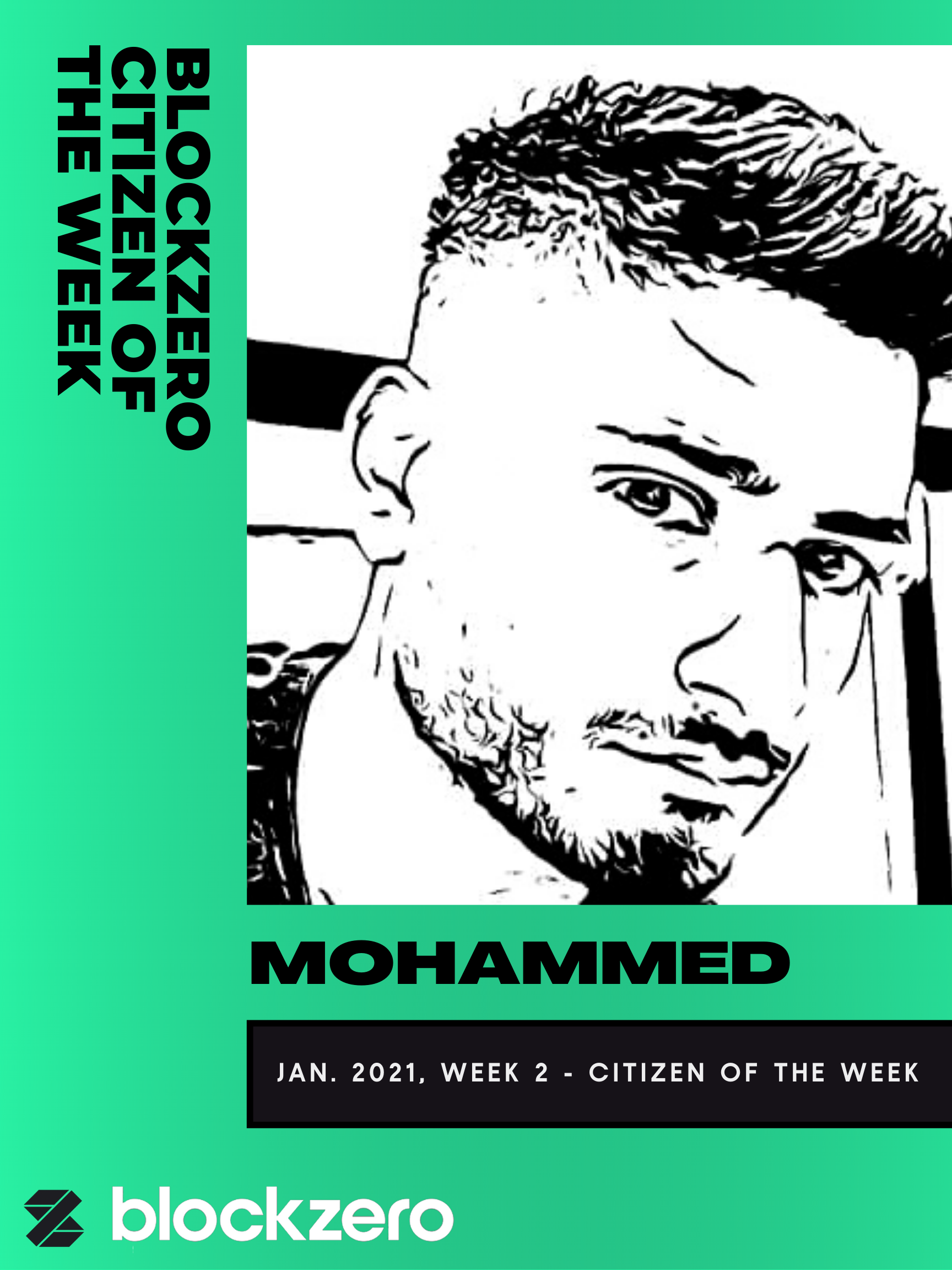 Citizen of the Week Interview
Where are you from, and what do you do for a living? If you weren't doing ________ , what would your dream job be?
I am an Optometrist from Manchester, England. As I am fascinated with blockchain technology, I would have liked to be a blockchain developer.
What's your favorite food? Top 3 favorite albums of all time?
Beef steak medium to well done is definitely the favourite! I listen to all sorts of genres but if I had to pick top 3 albums it may have to be: 50 cent – get rich or die tryin / Akon – Konvicted / Massari.
What's one interesting fact about you that most people don't know?
I got run over as a child after school by a police car but didn't suffer any injuries. I landed on my backpack lol. I believe Allah saved me that day.
What's your favorite place you've ever traveled to?
I love traveling and have been to many countries that this question becomes hard to answer. If I must only pick one, I would say Dubai.
Favorite quote of all time?
"If people are doubting how far you can go, go so far that you can't hear them anymore." – Michele Ruiz
How did you first get into crypto?
After witnessing an epic bull run of 2017 I started researching into what cryptocurrency is. The more I started to read, the more I was drawn in.
What excites you most about the potential of the crypto/blockchain industry?
The idea of decentralization and Autonomy. Being in control of your own data and money. Transacting freely with anyone anywhere in the world within seconds and without an intermediary. Banking the unbanked. The efficiency of the technology and how its going to shape the world in next decade.
How did you first hear about XIO/Blockzero?
Ivan on Tech's interview with Zach.
What is your favorite aspect of Blockzero?
Exploring token ideas with the community and building what people want. Blockzero Labs is a team of very talented and humble individuals who are very down to earth and have inspired many citizens to get more involved with their approach. They value their citizens and have developed Blockzero into a great community of active citizens.
What do you love most about the Blockzero community? Explain a bit more about your particular niche within the Blockzero community, and how you got started?
I love the community engagement. The team at Blockzero – including Zach – take time out of their busy schedules to talk with the community almost every day. Zach makes great Youtube videos explaining every new development to keep us all updated. I am yet to find my particular niche within Blockzero Labs but I love getting involved in any way I can. Blockzero has seen a lot of growth recently and many new people are joining the community. I enjoy being helpful and answering questions from new Blockzero followers.