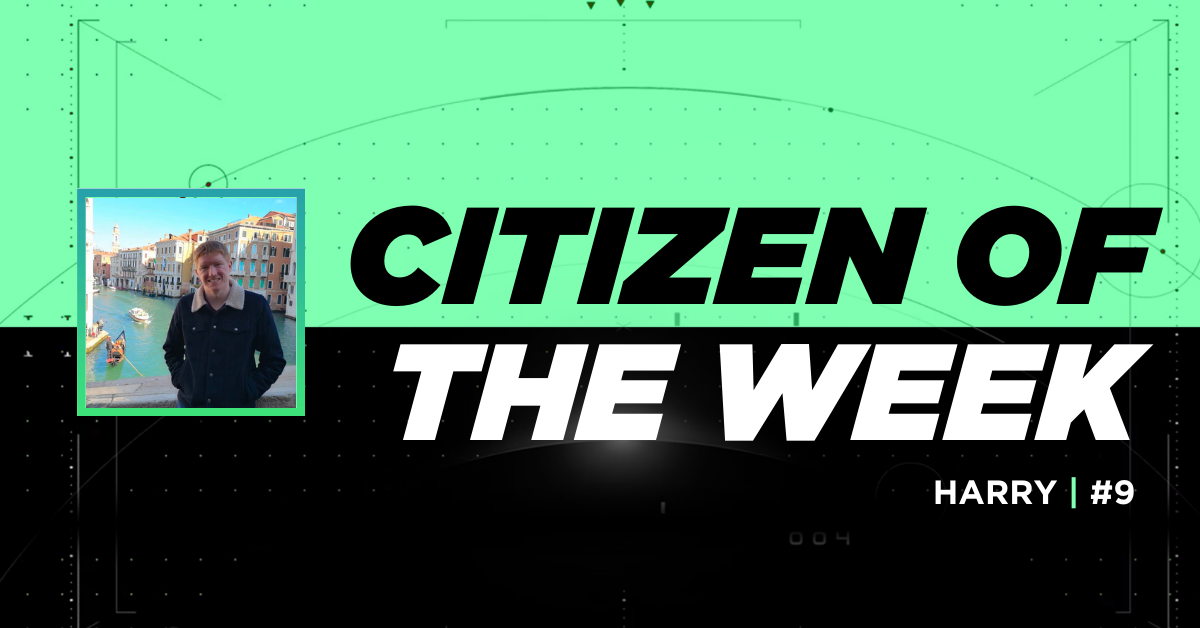 Announcing our Ninth Blockzero Citizen of the Week, Harry!
Each week, we're going to dedicate an interview-style blog by highlighting one of our standout Blockzero Citizens, giving you a moment in the spotlight. Who knows, there might even be other nifty rewards for winners down the line!
How to win? Just keep doing you. Share high-quality feedback, content, and keep going above and beyond in our dedicated Blockzero social media channels and forum. We'll notice you!
Our ninth Citizen of the Week is Harry!
Harry has been an amazing beacon of support throughout all of our Blockzero social channels, specifically within our Blockzero Labs Support channel.
Here's what fellow C.O.T.W winner Groot had to say about Harry's awesome contributions:
"Harry is great asset in Blockzero ecosystem. He is very thoughtful in replying to everyone who has issues/question and provides great details. His enthusiasm and passion are exemplary."
Thanks again Harry for being a great example of what a Blockzero Citizen should represent!
Citizen of the Week Interview
Where are you from, and what do you do for a living? If you weren't doing _______, what would your dream job be?
I'm from England and I work as a project manager for a building and engineering company working in the retail industry. I'd say what I do is very close to my dream job. I've never been one for working in an office and have always enjoyed the variety, in terms of challenges and different projects across the country that my job provides on a daily basis. The only thing I'd change is that one day I'd like to be responsible for building something significant like a skyscraper so I can point it out to people and say "I helped build that."
What's your favorite food? Top 3 favorite albums of all time?
That's a tough one as I love a good steak but I'm also a fan of spicy food so a curry is definitely up there. Cant say I've listened to many albums in full to really appreciate them. I'm more of a listen to Spotify/Apple Music kind of person.
What's one interesting fact about you that most people don't know?

Me and a friend back in junior school once banged foreheads whilst running around the playground. He came out of it with no injuries whilst I ended up bursting both blood vessels under my eyes, giving me two black eyes and a tennis ball sized bruise on my head. Got a few days off school, so it wasn't all bad.
What's your favorite place you've ever traveled to?

Too many to name but a few stand outs include: hiking the Inca trail to Machu Picchu in Peru, east coast road trip of America from Boston to Miami, seeing the big five on safari in Kenya/Tanzania, sitting with my legs out of the train is it passed through tea plantations in southern Sri Lanka.
Favorite quote of all time?
"It always seems impossible until it is done." – Nelson Mandela.
How did you first get into crypto?

I stumbled upon the cryptocurrency subreddit back in 2017 and got lost in the possibilities and the shilling.
What excites you most about the potential of the crypto/blockchain industry?

I love the decentralised and immutable nature of the blockchain and the limitless disruption and change to norms it can bring about.
How did you first hear about XIO/Blockzero?

Been around since back in the days of $BOMB token and the bomb squad.
What is your favorite aspect of Blockzero?

The endless potential that can be brought into the world through the empowerment of the community and the talented people within.
What do you love most about the Blockzero community? Explain a bit more about your particular niche within the Blockzero community, and how you got started?
How one community can bring so many people together from all over the world with similar aspirations. I'm present in around 9 BZ related groups and counting, and always happy to bounce ideas around with regulars or help out newcomers.