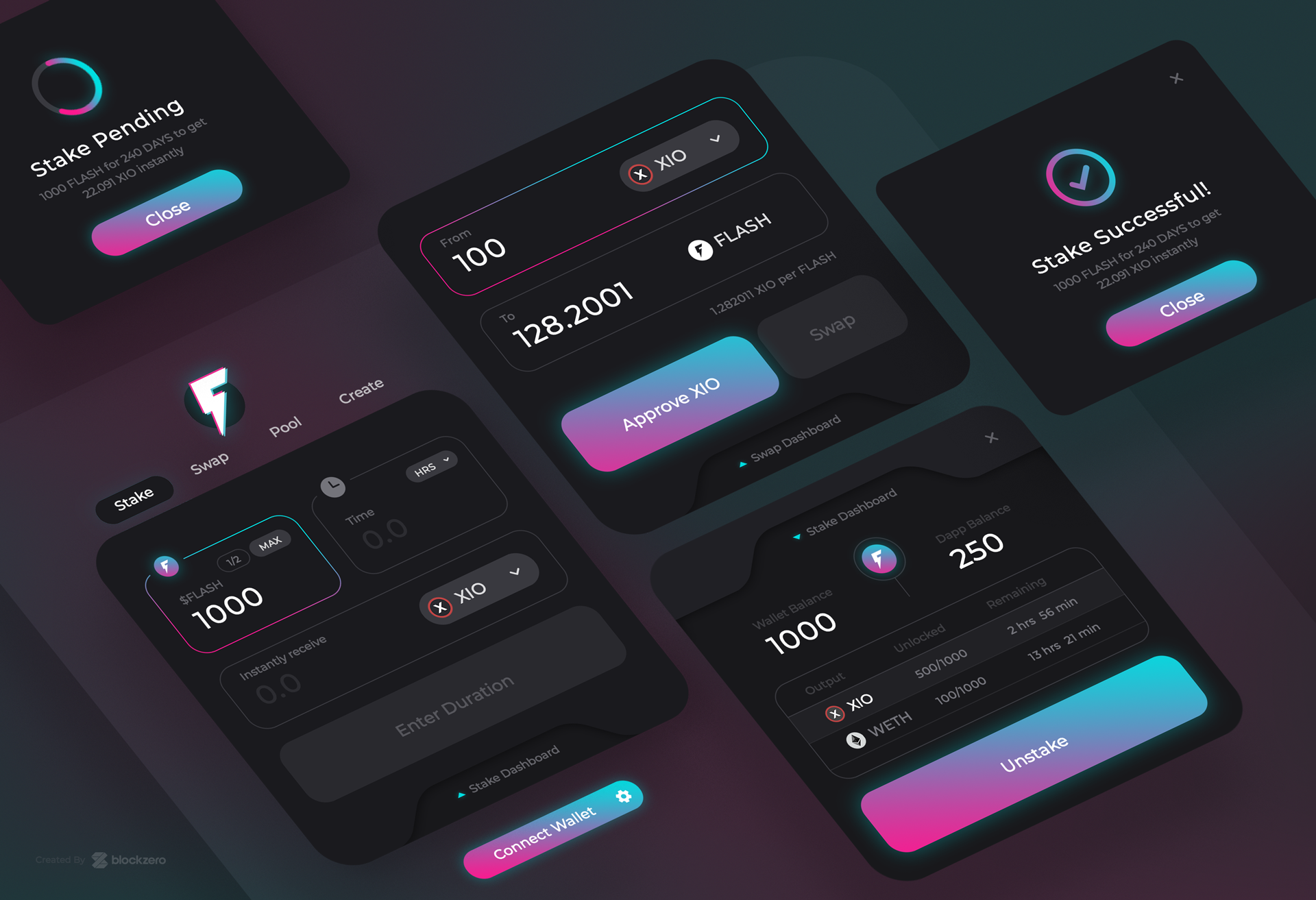 Important Reminder: Do not buy $FLASH at this time. Any v1 tokens purchased now will not be able to migrate to v2. Wait until v2 is released.
Within the first 75 days of launching, the Flashstake protocol hit some ridiculous numbers.
The market spoke, and the market said it enjoyed Flashstaking.
While we are extremely excited about our past, this post is about our future. Here are five things for Flashers to look forward to in 2021.
1) 150k Liquidity Mining + Staking Program
Last week, we announced Blockzero Labs would be offering 100,000 $FLASH to users who migrate to FLASH v2 through a Flash Liquidity Mining + Staking program.
Today, we are announcing that Blockzero Labs is putting up an additional 50,000 $XIO in celebration of the v2 migration. This means there will be 100,000 $FLASH + 50,000 $XIO up for grabs within the first month of migration. Here is how to participate:
For each day you are staked or adding liquidity, you will earn Flash Credits. The Credits you earn are redeemable for $FLASH + $XIO at the end of the month, proportional to your ownership of the credits. Here's an example:
If there are 1,000,000 Credits earned by all Flashers and you earned 50,000 Credits, you account for 5% of the total credits. You would receive 5,000 $FLASH (5% of 100,000) + 2,500 $XIO (5% of 50,000) at the end of thirty days.
To earn Flash Credits, you can do one of the three following things.
1.25x Multiplier: Users who have an active stake on v1 and/or users who Flashstake for a minimum of 30 days on v2
2x Multiplier: Users who add ETH/FLASH liquidity to the Flash v2 Uniswap pool
4x Multiplier: Users who add ETH/FLASH liquidity to Flashstake.io
A daily snapshot will be taken of all holders. After one month, users will be able to redeem their earned $FLASH + $XIO from our Claims dApp.
2) The New Look — Sweeter Than Cotton Candy
One month ago, we had a long-term Blockzero Citizen create some awesome mockups for Flashstake.
After we migrate to v2 and secure the protocol, Blockzero Labs will put development resources to see these new UX/UI design concepts come to life.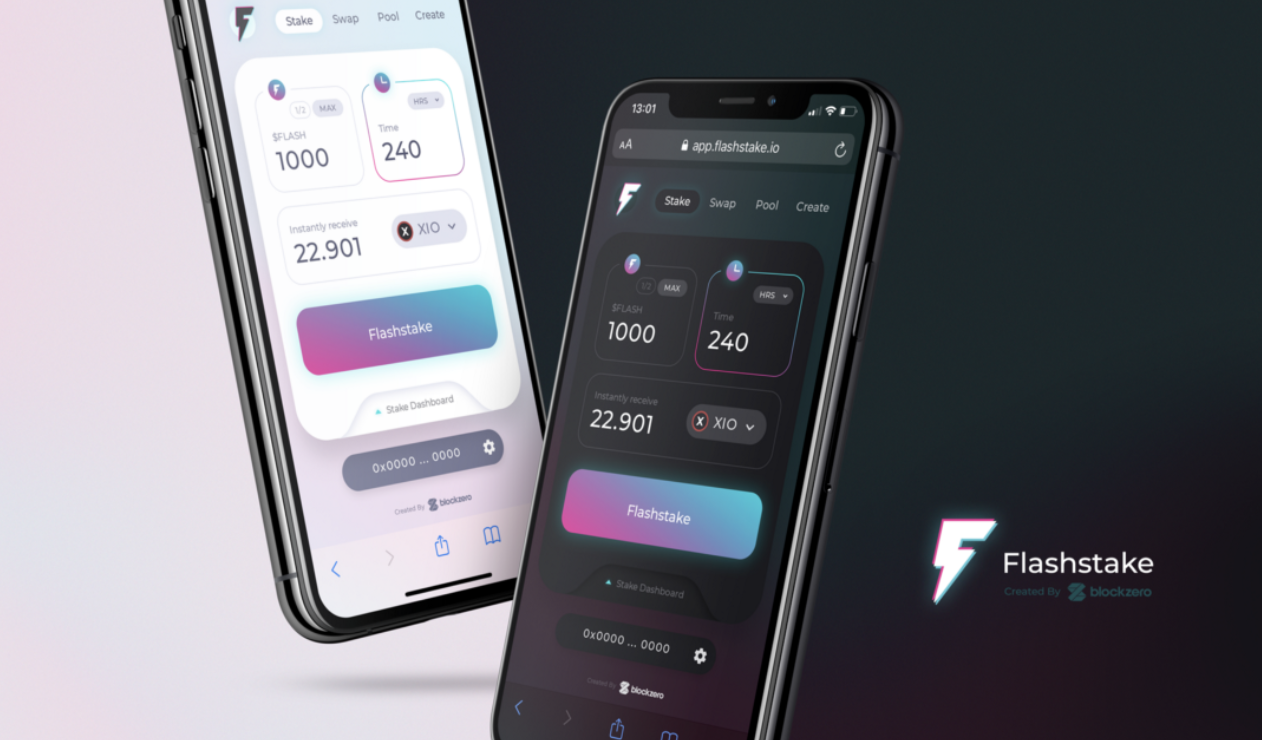 3) Optimism + L2s
Just last week, the current lead for helping Ethereum Scale (Optimism) made this tweet.
As soon as Optimism is made public, Blockzero Labs plans to put development resources into this and will continue to explore alternative chain options (Avalanche, Fantom, etc).
The cost to Flashstake would be roughly 25–250x cheaper using Optimism.
We just hired the dopest rockstars in town and they've expedited our timeline. Mainnet will be open to the public in March (more details soon). Read about the people who're making this possible⭐https://t.co/IKdf64rTPh

— Optimism (@optimismPBC) February 24, 2021
4) Transferless Payment System
Venmo and PayPal give you a custom link to send to your friends for payment.
FlashstakeMe is a platform that will do exactly this. The difference is, instead of having to send you money, they can simply Flashstake and redirect the yield to your wallet.
They keep their capital. You keep the interest.

Simple as that.
FlashstakeMe would be the world's first transfer-less invoicing system.
While it is not yet known how people would use this, we believe this platform would create a simple solution for startups to raise risk-mitigated capital.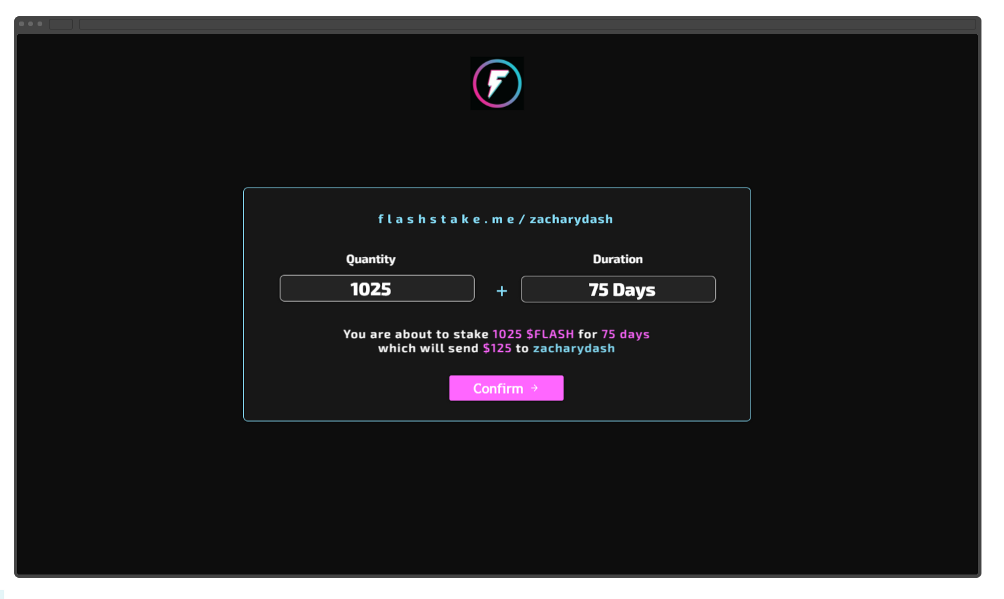 5) FLASH Zynthetic Upgrade
Imagine being able to Flashstake any token.
Whether it be DAI for LINK or SNX for AAVE, the Flash Zynthetic Upgrade would make this possible.
Since making this video, the community has spoken and decided to move Zynthetic under the Flash protocol umbrella, rather than have it be a stand-alone project.
Flash Forward
We could not be more proud of the community feedback and response we have received over the last week.
Despite a sudden move to v2, our Flashers continue to show how excited you are about the potential impact that Flashstaking can have on the entire crypto industry.
We thank you for your continuous support, patience, and shared enthusiasm during this time.
Let's make 2021 awesome — the future is at stake after all.